Hello Updaters!! - I hope you enjoy this Blog!!
A very special thanks to all our members, MODS, VIP's, Copy Cats and researchers at 
________________________________________________________________
The DINAR Talk News Call
w/BGG and Poppy – from Apr 19th
Click-N-Listen!!
________________________________________________________________
Update:
Tune in for Updates coming all day…
TLAR Commentary ~
8 days left until the parliamentary elections in Iraq. Maliki is still fighting to get a third term but all the blocks have basically turned their backs on him,. Maliki has even tried to negotiate his way into some political position after the elections like VP or President. He has tried to get any Shia block to recommend him for another position saying he would be willing to step aside and not run for PM if they did. He is extremely fearful of not being in some political position after the elections because if he is not, he looses his immunity. He has only his hard core supporters in the SOL that would like to see him get another term but even the SOL is in trouble with many not wanting to support him and they are experiencing defections by the droves. The NA, the Shia conglomerate party is not interested in supporting him and they have made no committments to him, but behind the seens the Shia party says that there is no chance for Maliki to get them to back him. Maliki has stated that if he can't win the PM job for a third term that he will leave Iraq. The list of blocks against him is getting longer by the day. The citizen block (projected largest Shia block), the Kurdish block, the Sadrists, the Sunni's (Iraqiya), the Islamic Supreme Council (Shia), the Turkmen and many smaller blocks have all banded together to make sure Maliki does not get a third term. Maliki sees the writing on the wall and IMO is just going through the motions until the last minute as are most of his hardcore followers. It is my opinion they will all run before election day is over as the first of the straw polls come out…
Read More: http://www.dinarupdates.com/showthread.php?13634-Tlar-hits-a-home-run&p=56953#post56953

________________________________________________________________
"EVICT MALIKI" COUNTDOWN : 7 DAYS TO THE ELECTION
NOTE: that the countdown notice has been amended to qualify the Election as  "Scheduled " to give emphasis to the tenuous state of political / constitutional affairs in Iraq in recent days and specifically the mention in the news of a possible delay in the election due to the Anbar diaspora. Add to the foregoing the " threat" of the election occurring under martial law with Maliki as the chief executive officer.
________________________________________________________________
*** Current News ***
Tune in for Our Round Table Chat @ 1:00PM EST – today (in Chat Room)!!
Read More: http://www.dinarupdates.com/
Central Bank allows opening accounts for money transfer companies in the bank
BAGHDAD / NINA / Central Bank of Iraq declared that it granted approval to the companies of money transfer to open accounts directly in the Bank.
A statement for the Central Bank of Iraq cited that: "The Board of Directors, in its meeting yesterday, decided to let money transfer companies to open accounts in the Bank directly deal with both / Iraqi dinar and dollar / to carry out the purchase of foreign currency."
The Bank asserted that the opening accounts for the companies directly will contribute to the expansion of auction of foreign currency and contribute in the stability of the currency exchange rate permanently.                        ARTICLE LINK
Follow us on twitter @DinarUpdates !!
Stop in for "NEWS TIME" with Millionday Wed. evening on CHAT at 7:30pm EST!!
www.DinarUpdates.com - save as favorite!!
EU: Iran pushes for Maliki to win a third term
President of the European Parliament's Delegation for Relations with Iraq Struan Stevenson accuses Iraqi PM Nouri al-Maliki of using his power and position to influence the election process.
According to Stevenson Iran has pressured Iraqi troops to support and vote for Maliki's third term. Particularly Qasm Slemani who is the most influential person after Khamenei.
Stevenson pointed out that Maliki has controlled most commander and security positions in the government and has them managed under his power, he also stressed that according the Iraqi constitution he should not be able to run for a third term.
He noted that based on the reports that he has gotten from Iraq, Independent of High Electoral Committee is under the power of Maliki and hundreds of millions of US dollars have been spent to buy people's votes.
There have also been reports that up to one million extra electronic election cards have been made for his soldiers in the Interior Ministry and Defense Ministry to vote in the special election (soldiers) as well as general elections.
"What is not fair here is the silence of US and EU members about the situation in Iraq. They should not be silent against the actions of Maliki. The only way forward is to hold a fair election with the United Nations supervising in order to keep an eye on Maliki's actions," said Stevenson.                ARTICLE LINK
BGG ~ Looks like Iran has done the old "rope-a-dope" on the Obama Administration…we'll see how it works out for them… In typcial ME fashion – believe none of what you hear and only half of what you see with your own eyes.
The DINAR Talk INFO Call
w/BGG – from April 22nd
Click-N-Listen!!
Iraqi commanders bribe soldiers to vote for State of Law and Coalition
According to Iraqi Kurdish MP Shwan Mohammed Taha, Prime Minister Nouri al-Maliki's State of Law and Coalition (SLC) has hindered a draft law that would have allowed troops of the Ministry of Interior to vote like ordinary civilians.
Iraqi commanders have taken back electronic election cards from soldier who they did not trust, and asked them to vote in favor of the SLC.
According to an official letter form the intelligence department obtained by BasNews, Iraqi commanders have bribed soldiers with promises of promotion if they choose to vote for SLC.
"Iraqi PM Nouri al-Maliki is using the Ministry of Interior for his own party's interests and has politicized all the troops," said Taha.           ARTICLE LINK
________________________________________________________________
Check out the Dinar Corp 120+Max – it's EQUITY!!
Commercial Solicitation

________________________________________________________________
Iraq's Shiite bloc to support Sunni Arab for President
By Adnan Jassem
BAGHDAD – Iraq's main Shiite bloc led by Prime Minister Nouri al-Maliki will endorse a "moderate Sunni Arab" candidate to succeed incumbent President Jalal Talabani, who is Kurdish, a leading bloc member has said.
"The State of the Law bloc believes the position of president shouldn't be reserved for a certain entity," MP Mohamed Sayhoud told Anadolu Agency on Friday.
Political agreements that followed the 2003 U.S.-led invasion of Iraq had called for the post of president to be reserved for a Kurd, the premiership for a Shiite and the position of parliamentary speaker for a Sunni.
"Past agreements are bound to change after parliamentary elections," Sayhoud said, in reference to upcoming April 30 polls. Talabani will have finished two consecutive four-year terms in June. According to the constitution, he cannot run for a third term.
The Kurds represent Iraq's second largest ethnic group after Arabs. The autonomous Kurdish government in northern Iraq controls several strategic oil and gas fields. Tensions mounted between Baghdad and the Kurdish administration after the latter announced plans to unilaterally export oil.
Upcoming parliamentary polls will come amid an uptick in militant attacks in the northern and western parts of the country, which have also spilled over into Baghdad.
The largest electoral bloc in Iraq's 328-member parliament has the right to nominate candidates for the premiership and other senior cabinet posts.    ARTICLE LINK
BGG ~ This isn't the "joyous news" it might appear at first glance. This is Maliki saying he's in favor of anyone other than a Kurd being the next POR… This is not good news for the Kurds. However, it also may show the underlying depths of Maliki's desperation. He's willing to forge an alliance with the Sunni politicians as opposed to being on the outside looking in over the next two weeks. My personal opinion – it's too little, too late…
The reigning political powers are almost assured of a "partnership government" where everyone gets something as opposed to a replay of the last four years. I doubt this gets Maliki anywhere – and all this is predicated on the Sunni's not hating his guts for his constant racial mistreatment of them. Which they do.

Iraqi Dinar/Dollar auction 04-23-14
Currency Auctions Announcement No. (2659)
This daily currency auction was held in the Central Bank of Iraq on the 23-Apr-2014
The results were as follows: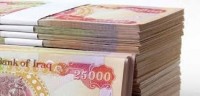 DETAILS                                                              NOTES
Number of banks                                                 13
Auction price selling dinar / US$                       1166
Amount sold at auction price (US$)                  171,559,000
Total offers for buying (US$)                             171,559,000
More: http://dinarupdates.com/observer/
"DINAR UPDATES C.E. RESOURCE LIST" Sign-up on the Rt. side of this page!! 
Baghdad Claims Preliminary Accord in Oil Talks; Erbil Reports No Progress 
By RUDAW 
Shahristani said that the KRG has given preliminary approval for Kurdish oil exports through Iraq's State Oil Marketing Organization.
ERBIL, Kurdistan Region – Comments by officials in Baghdad and Erbil shed no light on a seething oil quarrel between the two sides, with Iraq's deputy premier saying that a preliminary agreement had been reached and the Kurdish premier reporting no progress in talks.
Meanwhile, Turkish Energy Minister Taner Yildiz added that facilities storing Kurdish crude at the port of Ceyhan – awaiting sale and re-export once the Erbil-Baghdad row has been resolved – are nearly full.
In an interview with Sky News Arabia, Iraq's deputy prime minister for energy affairs, Hussein Shahristani, said that the autonomous Kurdistan Regional Government (KRG) has given preliminary approval for Kurdish oil exports through Iraq's State Oil Marketing Organization (SOMO).
He claimed that Erbil had said in a statement that the exports would be within the framework of Iraqi regulations, and that they had not begun yet due to technical reasons. Shahirstani said that Baghdad was waiting for Erbil to commit to that decision.
However, there has been no indication from Erbil that such an accord has been agreed…
Read More: http://www.dinarupdates.com/showthread.php?13628-quot-The-Dinar-Daily-quot-Tuesday-22-April-2014&p=56918#post56918
More Interesting Headlines…
BGG ~ It is very interesting the main "exclusion" of candidates are from the "opposition" – Allawi, Mutlaq, Najafi and Hakim's blocs. Virtually all bounced entries are from these coalitions. Only 3 from the others. 
De-Baathification and Criminal Charges: Patterns of Candidate Exclusion in Iraq's Parliamentary Elections, 2014
Posted by Reidar Visser
Unlike previous years – and in particular the parliament elections of March 2010 and the provincial elections of January 2013 – the dispute about candidate exclusion ahead of elections has been somewhat limited with respect to Iraq's upcoming parliamentary poll on 30 April. And to the extent that there has been a debate, it has focused on the question of whether candidates are of "good reputation" – a candidacy requirement enumerated in the Iraqi elections law – rather than on de-Baathification. Accordingly, whereas heated debates about the legacy of the former Iraqi ruling party made its mark on the past two elections (and especially so ahead of the vote in 2010), the focus this year has been on a dispute between parliament and the Iraqi elections commission regarding the interpretation of the requirement that candidates be of "good reputation " – a dispute in which IHEC ultimately prevailed over parliament's suggestion for a more restrictive interpretation.
The dual focus on de-Baathification and "good reputation" reflects the fact that legally speaking, apart from the basic age and educational requirements, there are two ways in which an election candidate can be  delisted from an Iraqi election. Either the candidate is excluded because he is subject to de-Baathification according to the de-Baathification law from 2008, or the candidate does not meet the "good reputation" requirement – something that in practice has been operationalized as the existence of multiple legal charges against an individual. This year, around 400-500 candidates were initially excluded because of de-Baathification, whereas around 70 were delisted because of a failure to fulfill the good reputation requirement…    ARTICLE LINK
WHAT WE LEFT BEHIND
An increasingly authoritarian leader, a return of sectarian violence, and a nation worried for its future.
BY DEXTER FILKINS
On Christmas Day last year, Prime Minister Nuri al-Maliki appeared on Iraqi television to wish his country's Christian minority—which has been fleeing by the thousand since the American invasion, in 2003—a happy holiday. Maliki, who is sixty-three, wore a dark-blue suit and a purple tie, and stood almost perfectly still at a lectern flanked by Iraqi flags. His long face conveyed, as it almost always does, a look of utter joylessness. Having spent much of his life hunted by assassins, Maliki gives the impression of a man who learned long ago to ruthlessly suppress his feelings. "He never smiles, he never says thank you, and I've never seen him say, 'I'm sorry,' " a longtime associate of Maliki's told me. For Maliki, the holiday greetings were a pretext. What he really wanted to talk about was protests unfolding in Anbar Province, west of Baghdad. "Thank God, the truth has been revealed," he said.
When the last American soldiers left Iraq, at the end of 2011, the bloody civil war between the country's Sunni and Shiite sects had been stifled but not resolved. Now the sectarian violence had returned, with terrifying intensity. For more than a year, thousands of Iraqis, nearly all of them members of the Sunni Arab minority, had been gathering to rail against Maliki's Shiite-dominated government. Although the protests were mostly peaceful, security forces responded harshly, detaining thousands of Sunni men without charges and, in one encampment, touching off a spasm of violence that left hundreds of civilians dead. Across the Sunni heartland, north and west of Baghdad, the town squares filled with angry crowds, and the rhetoric grew more extreme. In Ramadi, protesters raised black jihadi flags, representing the extremist Al Qaeda offshoot that had dominated the city during the American occupation. "We are a group called Al Qaeda!" a man shouted from a stage in the protesters' camp. "We will cut off heads and bring justice!" The crowd cheered.
Speaking into the television cameras on Christmas, Maliki ordered the protesters to disband. Largely ignoring his own men's excesses, he claimed that the protests were dominated by extremists. "This site has become a base for Al Qaeda," he said, filled with "killers and criminals." Maliki ended his speech with what for him was a flourish of emotion, lifting a hand from the lectern. "There will be no negotiations while the square is still standing."
In the protests at Ramadi, a Sunni member of parliament named Ahmed al-Alwani had inflamed the crowds, accusing Maliki of being in league with the Iranian regime, the region's great Shiite power. "My message is for the snake Iran!" Alwani shouted into a microphone, jabbing his finger into the air. Referring to Maliki and those around him as "Safavids" and "Zoroastrians," terms that denote Iranian invaders, he said, "Let them listen up and know that those gathered here will return Iraq to its people!"
Three days after Maliki's speech, security forces surrounded Alwani's compound. Officials claimed that they had gone not to arrest him—as a member of parliament, he had immunity—but to capture his brother, who was wanted on vague charges of "terrorism." Gunfire broke out. The troops killed six people and took Alwani away. A photograph apparently smuggled from jail showed him in an orange jumpsuit with bruises on his face. His brother had fared far worse: he was shot to death in the fighting.
Soon afterward, troops cleared the Ramadi camp, on a day when it was sparsely occupied. Anbar Province erupted, along with the rest of Sunni Iraq, and the violence has not ceased. A wave of car bombers and suicide bombers struck Baghdad; in January, more than a thousand Iraqi civilians died, the overwhelming majority of them Shiites, making it one of the bloodiest months since the height of the American war. In the effort to put down the upheaval, Maliki ringed the province's two largest cities, Falluja and Ramadi, with artillery and began shelling. Forty-four Sunni members of parliament resigned. In Falluja and Ramadi, Sunni police abandoned their posts.
Maliki, apparently realizing that he had miscalculated, ordered the Army to leave both cities. Within hours, dozens of armed men, their trucks flying black flags, swept into the downtowns, declaring that they were from the Islamic State of Iraq and the Levant, an Al Qaeda splinter group. Locals said that it was made up of men who had fought the Americans. "They are sleeper cells—local people," a Falluja resident, who watched the rebels come into the streets, told me. "Al Qaeda was here all along, lying low. And now they control Falluja."
The capture of Iraqi territory by Islamic extremists, barely two years since the last American soldiers left, prompted an extraordinary wave of soul-searching in Iraq and the United States, which lost more than thirteen hundred men and women in Anbar Province. Much of that reflection, in both countries, centered on Maliki, the man in whom the United States invested so much of its hopes and resources. Among many Iraqis, the concern is that their country is falling again into civil war, and that it is Maliki who has driven it to the edge. On April 30th, Iraqi voters will go to the polls to choose a parliament and ultimately a Prime Minister; after eight years in office, Maliki is seeking a third term. Many fear that victory would allow him to tighten his hold on the state. "If he wins this time, he will never leave," the longtime Maliki associate told me.
I saw Maliki in his office in February, and he appeared as stiff and colorless as he did during his televised speech—an apparatchik become the boss. Wearing the same navy-blue suit and purple tie, he spoke in a monotone, his face blank, his body seemingly fixed to his chair. The office, a sterile room without a trace of warmth, had no windows, presumably because windows could be shattered by bombs.
When I asked Maliki about Anbar, he offered muddled explanations for why his forces had apprehended the Sunni parliamentarian. "Nobody could deny it—he and his brother were carrying guns against the Iraqi government," he said. He brightened when I asked him about his reëlection prospects. He told me he had earned the right to keep his job because, among other things, he had pursued policies that treated Iraqis equally, regardless of sect, and he had resisted the forces that were pulling his country apart. "First of all, we have kept Iraq united," he said.
As Maliki spoke, a low-pitched rumble shook his office. Our tea glasses rattled. It was a car bomb—a few hundred yards from the fortified compound where Maliki lives. It was one of eight explosions that struck Baghdad that day, leaving thirty-four people dead. For a moment, everyone sat in silence. Then Maliki turned to an aide. "Go see what that was," he said…
Read More: http://www.dinarupdates.com/showthread.php?13628-quot-The-Dinar-Daily-quot-Tuesday-22-April-2014&p=56948#post56948
If you found this blog, our website or chats helpful – Forward it to a friend!! We couldn't do it without you!! Thanks – BGG!!