Hello Updaters!! - I hope you enjoy this Blog!!
A very special thanks to all our members, MODS, VIP's, Copy Cats and researchers at 
________________________________________________________________
"What's next…" Dinar Talk INFO Call
w/BGG & WMAwhite … Aug 14th
Click-N-Listen!!
________________________________________________________________
Word for the day…
Proverbs 27:17  As iron sharpens iron, So a man sharpens the countenance of his friend.
Heavenly Father, thank you for friends that You have surrounded us with to sharpen us, and help us to be friendly to others around us to lift up their countenance. 
In Jesus Name, Amen.
Mrs BGG
Update…
Tweeted by Dinar Updates
Sign the petition to have Nuri al-Maliki tried as a war criminal at "We the people" – Sign, Share and Retweet!!
https://petitions.whitehouse.gov/petition/iraqi-people-demand-judgment-nuri-almalki-war-criminal-against-humanity-because-kill-displace-sunni/gp70RYPP
________________________________________________________________
Once you sign the petition to have Maliki tried as a war criminal at dinarupdates.com/blog/ – be sure to "verify" your signature!!
BGG ~ This isn't out of some sense of "self-justification" or spite. Nor do I think we have much say – ultimately… but it may give the White House a "political nudge" the direction they are already heading…
Further, it is the right thing to do. When those who have had their voices so violently taken from them cannot - it is incumbent upon those of us who can – to do so.
Be sure and forward it to everyone you know. Start this petition going viral!!
Follow us on twitter @DinarUpdates !!
Read More: http://dinarupdates.com/observer/

________________________________________________________________
"EVICT MALIKI" COUNTDOWN : ELECTION DAY +114!!
________________________________________________________________
*** Current News ***
WOW!! 22k signatures!! Keep it up!! Vote to have Maliki tried as a war criminal at "We the people" – Sign, Share and Retweet!!
https://petitions.whitehouse.gov/petition/iraqi-people-demand-judgment-nuri-almalki-war-criminal-against-humanity-because-kill-displace-sunni/gp70RYPP
________________________________________________________________
BGG,
I spoke to Sam a little bit ago and he cleared up some of the early misconceptions I was hearing from my group. Sounds like he is moving forward soon with his new marketing plans here in Texas. I played golf with him a couple of years ago when he first his vision with me. It's fun to watch it play out. He assured me he will fulfill all orders in the pipeline.
Thanks for your quick response….we should chat soon.
Rxxxx
BGG ~ DC has been transparent and open about any upcoming issue – I would have been gravely concerned were this not the case. I have been aware of these future plans for nearly a year now – it will be AWESOME (not all Dinar related).
Iraqi Alliance forces: Talks with the Committee of the National Alliance suggest optimism. 
BAGHDAD / Nina /– MP Mohammad Karbouli member of the negotiating committee of Iraqi Alliance forces expressed his Alliance optimism of yesterday's meeting which held with the the National Alliance regarding the future of the political process and the real power-sharing .
Karbouli said in a statement today that " the positive atmosphere which prevailed the meeting reinforced the spirit of trust, understanding, wisdom and diligence shown by the members of the National Alliance to end the negative aspects of the past years.
NinaNews.com 
Stop in for "NEWS TIME" with Millionday Saturday evening on CHAT at 7:30pm EST!!
www.DinarUpdates.com - save as favorite!!
How did Sistani succeed in ousting Maliki?
The political behavior of Grand Ayatollah Ali al-Sistani is characterized by composure, planning and continuity of work. In the past few years, he has carried out a large share of his projects through such behavior. For some time it was thought that Sistani had lost the political game to former Prime Minister Nouri al-Maliki, after the latter completely took control over internal affairs and created close ties with external actors who are influential in Iraq, in such a way that was expected to grant him another four years in power.
Maliki warned Sistani to give up on his political demands, as the latter spoke of the necessity of Maliki stepping down to create political consensus among the different components of the new government. Maliki also galvanized religious guides who are opposed to Sistani and persuaded them to directly support him. This, however, did not foil the meticulous planning of Sistani, which he has been developing for a long time to protect the democratic process in Iraq.
The role that Sistani plays is delicate and difficult and stirs, at times, controversy; there is debate as to whether religious figures have the right to take political positions in a country where the people elect representatives to take political decisions. Maliki referred to this electoral process in strongly opposing Sistani's demands. However, it is impossible to properly debate this issue without taking into account the social situation in Iraq, the course of democratic rotation of power in the country and the political work style of Sistani…
…Sistani is playing the role of protector of the democratic course in Iraq. He does this by relying on the societal influence he draws from the religious power he has over a large spectrum of Iraqi society. However, this remarkable characteristic of Sistani is not guaranteed to be found in his successors.
al-Monitor.com
_______________________________________________________________
"News & Updates…" Dinar Talk Call
w/BGG – Aug 19th
The New York Times: Abadi less hostile and more civilized than al-Maliki and his character appropriate to recognize the authority of leadership
Fallujah News / Saw an American newspaper universally known, that the Prime Minister-designate Haider al-Abadi, differs from his predecessor, Nuri al-Maliki, although they were from the Islamic Party itself, and while it stated that 'less hostile' and'okther civilized 'and lived for decades in Britain, speaks English, and may have 'touches new' policy on Iraq, promised that personal 'appropriate authority to take over the leadership', and that many upheld as 'not sectarian' as was his predecessor….noting that 'Iraqis chose the day, a single-Abadi, and their country on the outskirts of collapse again.' 
…Iraqis, saying that, despite the 'possession of Abadi and al-Maliki to the legacy of a common political, but between them are important differences, including that Abadi influenced by the West more than it is al-Maliki'…
http://www.dinarupdates.com/showthread.php?14314-quot-The-Dinar-Daily-quot-Thursday-21-August-2014&p=70520&viewfull=1#post70520
________________________________________________________________
Check out the Dinar Corp 120+Max – it's EQUITY!!
Commercial Solicitation
________________________________________________________________
Ebadi to submit candidates of his cabinet to parliament on next Monday
Baghdad (AIN) – An informed source stated that the PM-designate Haider al-Ebadi, will submit the names of the candidates of his cabinet to the parliament next week.
The source added to AIN "Ebadi will submit the names of next Monday, the 25th of August after finishing the negotiations with the political blocs."                                                                                                           Alliraqnews.com

Iraqi Dinar/Dollar auction 08-21-14
Currency Auctions Announcement No. (2750)
This daily currency auction was held in the Central Bank of Iraq on the 21-Aug-2014
The results were as follows: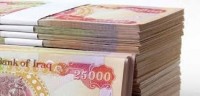 DETAILS                                                              NOTES
Number of banks                                                 16
Auction price selling dinar / US$                       1166
Amount sold at auction price (US$)                  193,806,000
Total offers for buying (US$)                             193,806,000
Read More: http://dinarupdates.com/observer/
Nouri al-Maliki (C), acting Defense Minister Saadoun al-Dulaimi (2nd R) and Lt. Gen. Abboud Qanbar (L) attend the funeral ceremony of Gen. Majid Abdul Salam in Baghdad, Aug. 13, 2014. (photo by REUTERS)
The collapse of Maliki's party
Summary ~ Outgoing Iraqi Prime Minister Nouri al-Maliki has failed to keep his party and coalition together, through his nondemocratic approaches, while the new Prime Minister-designate Haider al-Abadi vowed to preserve the national consensus.
Outgoing Iraqi Prime Minister Nouri al-Maliki never thought that his strong and cohesive parliamentary bloc, the State of Law Coalition, would weaken so easily and that his internal and external allies would leave him and follow another political path. The efforts that Maliki has been deploying for many years to remain in power for a third term faded within hours. He was shocked when his fellow partisan Haider al-Abadi was designated to form a government, without his prior knowledge, which ultimately forced him to accept the loss and renounce his position on Aug. 14.
Although Maliki came to power following a democratic process, he followed a nondemocratic approach in building his internal and external relationships and coalitions. He exerted a significant effort to undermine the major competing coalitions, most notably the Iraqiya List coalition led by Ayad Allawi, which won more votes in the 2010 parliamentary elections than the State of Law Coalition. Maliki also extended his authority over the judiciary and the legislature using arbitrary methods, by limiting the powers and positions of influence to figures loyal to him within these two branches.
At the international level, he used the same method adopted by dictatorial regimes in the region, which is to scare Western countries of the rise of terrorism in the event they renounced their support for him. He has collaborated with Iran on all common files and issues between the two countries to obtain Iran's full support. He was betting on the terrorist threat of the Islamic State (IS) to gain US and Iranian support to remain in power for a third term.
In his relationship with the Shiite authority, Maliki used intimidation and the approach of creating alternative religious authorities to overcome the religious power of the Shiite authority, which may have opposed him in the event he insisted on clinging to power.
At the social level, he built extensive relationships with tribal sheikhs and businessmen through different methods, such as the use of political money, to ensure their continued support. He also put together judicial files against politicians as a means of putting pressure on them.
This shows that the alliances established by Maliki were fragile in nature and not based on real understandings and cooperation agreements between the parties participating in the political process. This justifies their collapse in a very short period of time.
This even applies to the members of his Dawa Party, who have been dissatisfied with his performance during the last year. A source from within the party told Al-Monitor, "A number of Islamic Dawa leaders criticized how Maliki dealt with the political situation and how he insisted on his positions. This would have harmed the party's stance and prevented it from remaining in power."
The source said, "Haider al-Abadi, designated to form the new government, was the most prominent opponent of the outgoing Iraqi prime minister. This made him gain the sympathy of the Shiite opposition, which insisted on its position against renewing Maliki's term. Moreover, Abadi was not involved in any prominent executive action that might have stirred criticism by various Iraqi political entities. He is not accused of corruption or involvement in any repressive action against the Iraqi opposition with its various entities."
Abadi, a prominent member of the Dawa Party and the State of Law Coalition, was a smart choice, as it drew all of the various opposition votes in his favor. On the other hand, his appointment led to the fragmentation of the State of Law Coalition and the Dawa Party itself, since those who opposed Maliki and did not want their coalition and party to fall outside the scope of power quickly turned to Abadi, and left Maliki. This was revealed in Maliki's first appearance after Abadi's designation, as only 28 out of the total 95 members of the State of Law Coalition attended, with no senior leaders of the Dawa Party present.
On the Iranian side, Maliki was counting on the support of Qassem Suleimani, commander of the Quds Force, hoping that Suleimani would change the course of things in such a way that mitigates the recent obstacles faced by him. However, it seems that the Iranian side changed its mind at the last minute for two reasons: the tough stances of Ali Sistani and the Shiite opposition, and the shift in the path of IS toward Iran. IS clearly got the US message: the Kurdistan Region is a US red line that IS cannot cross. Therefore, immediately after the US Air Force strikes, IS headed toward the Iranian border and took over the town of Jalawla, 115 kilometers (roughly 71 miles) northeast of Baghdad, moving toward Khanaqin, which is only 20 kilometers (roughly 12 miles) from the Iranian border.
Finally, based on the experience that Maliki had, Abadi must build comprehensive national understandings bringing together Iraqi sectors with respect to Iraq's general direction. He must also open up to international and regional parties in a balanced manner that preserves Iraqi national interests, instead of putting together fragile coalitions based on unlawful methods and which are likely to crumble at any given moment, as was the case with Maliki. This is what the Shiite alliance expects from Abadi. The latter had made guarantees to this alliance that as a new prime minister, he would preserve the national consensus and refrain from autocracy.
http://www.dinarupdates.com/showthread.php?14314-quot-The-Dinar-Daily-quot-Thursday-21-August-2014&p=70524&viewfull=1#post70524
More interesting Headlines…
Iraq: Abadi rejects Maliki's advice on government formation
Prime Minister-designate says he is committed to forming national unity government
Amman, Asharq Al-Awsat—Prime Minister-designate Haider Al-Abadi rejected a call made by his predecessor Nuri Al-Maliki not to entertain "preconditions" from Iraq's Sunnis, stressing that he is committed to forming a national unity government that includes all Iraqi political and sectarian factions.
In a statement on Thursday, Abadi said: "I am committed to the recommendations put forward by the religious authorities [in Iraq] regarding the necessity of forming a government that enjoys broad consensus." He added that the next Baghdad government must be able to establish security and stability and resolve the many problems facing the country, not least the continuing advance of Islamic State of Iraq and Syria (ISIS) fighters.
The prime minister-designate said that government formation efforts are progressing well, particularly after top Kurdish ministers rejoined the cabinet earlier this week.
"The government formation negotiations are moving forward in an encouraging manner. The political factions have put forward their views, and we are discussing this. We hope to reach an agreement on the new cabinet as soon as possible," Abadi said.
He called on Iraq's divided political factions to "overcome their differences and move forward in the political process, turning over a new page for the sake of Iraq and the Iraqi people."
Abadi's comments come just one day after outgoing prime minister Nuri Al-Maliki explicitly called on him to reject any Sunni preconditions for joining the new government.
"Setting conditions before the formation of the government will damage the political process . . .Abadi must refuse to be dictated to by political blocs," Maliki said in his weekly address.
Maliki called on his successor to explicitly reject Sunni preconditions for joining the new government; Iraq's Sunni blocs have threatened to boycott the new government if demands are not met.
The deadline for Abadi to announce the formation of a new government expires on September 10.
aawsat.net
Stumbling Towards the Latest "Inclusive Iraqi Government" Mirage 
By DAVİD ROMANO 
American officials from President Obama down to the lowliest Foreign Service officers appear very fond of repeating a certain mantra: "Iraq needs a new, inclusive government." Every time Iraq collapses into paralysis and sectarian bloodletting, Washington points to the next "new inclusive government" mirage and demands that Iraqis stumble towards it more quickly. I wrote about this last June after Secretary of State John Kerry's visit following the fall of Mosul to Jihadist barbarians:
Was it not a "national unity government" that was formed after the 2010 Iraqi elections? Did Iraq not have a Shiite Prime Minister, a Kurdish President and a Sunni Finance Minister? In addition, were not the Foreign Minister and one of the Deputy Prime Ministers Kurdish, while one of the Vice-Presidents and another of the Deputy Prime-Ministers were Sunni Arab?
In other words, Iraq has had many "new and inclusive" governments since 2005. Even during Saddam Hussein's era, the government in Baghdad had its Christian Foreign Minister and various other Sunni, Kurdish, Shiite and Turkmen ministers. The inclusiveness meant nothing in a context of authoritarianism. What no Iraqi government ever had was a sufficient body of checks and balances on the central government's authority and devolution of real power to local governments and communities.
Unfortunately, since 2006 Prime Minister Maliki and his fellow Dawa parliamentarians have mounted an unceasing campaign to centralize power in Baghdad and in their own hands, paralyzing important legislation such as a national hydrocarbons law when other communities refused to accept the government maneuverings. Even aspects of the 2005 Iraqi Constitution that appeared fairly clear, such as the right of regions and governorates to manage their own new oil and gas fields, the right to establish and maintain their own regional security forces and the right of governorates to form new regions akin to the Kurdistan Region, were denied and blocked by the Maliki government.
Sunni Arabs could have been allowed to form their own region(s), something they have been attempting to do since 2011. They could have protected their region with their own Awakening Councils, which the Americans recruited and initially funded. They could have financed their region and security forces with their own revenues (as part of their guaranteed share of Iraqi national oil revenues). The Shiite-dominated government in Baghdad chose to deny these rights to the Sunnis, arresting their leaders when they tried to challenge Baghdad or organize referendums on creating new regions, killing peaceful Sunnis protesting the arrests, and failing to transfer funds or pay the Awakening Councils after the Americans withdrew from Iraq. The Kurds were hardly treated any better as certain Shiites in Baghdad continued to try to centralized and monopolize all real power.
So instead of just calling for a "new, inclusive government in Baghdad," the Americans should loudly and explicitly demand a new government in Baghdad that actually respects the real devolution of power in the country. Devolution of power must include authority over oil and gas (with mechanism to ensure transparency in both Baghdad and local governments and the sharing of resultant revenues), formation of new regions, letting Kurdistan carry out Article 140′s provisions on disputed territories, and local security forces (Baghdad's refusal to pay or supply Kurdish peshmerga and Sunni Awakening Councils allowed the Islamic State to make the gains it did).
Unfortunately, the latest shimmering mirage seems just as likely to vanish if Kurds and Sunnis prove credulous enough to walk towards it without firm and explicit guarantees in these matters. Haider al-Abadi comes from the same Dawa Party inner circle as Nuri al-Maliki. He headed the Council of Ministers Finance Committee that cut Iraqi Kurdistan off from the national budget since January, when the Kurds refused to let Baghdad monopolize oil production and exports (the Kurds all the while insisted they would share the revenues of their exports with the rest of Iraq). Standing beside Mr. Abadi when he accepted the nomination to try and form the next government was Hussein al-Sharistani, the Minister of Energy known as the "arch centralist" in Baghdad. That Mr. Abadi and Mr. Sharistani are Western educated (your humble columnist holds a Ph.D. from the same Canadian university as Mr. Sharistani) seems little reason to expect a sudden revolution in their politics.
Perhaps if or when this latest mirage vanishes, the Americans and the rest of the international community will finally accept that the Iraqi Kurds should go their own way – although this would leave open the question of where Sunni Arabs in the country should go.
David Romano has been a Rudaw columnist since August 2010. He is the Thomas G. Strong Professor of Middle East Politics at Missouri State University and author of The Kurdish Nationalist Movement (2006, Cambridge University Press) and co-editor (with Mehmet Gurses) of Conflict, Democratization and the Kurds in the Middle East (2014, Palgrave Macmillan).
Rudaw.net
If you found this blog, our website or chats helpful – Forward it to a friend!! We couldn't do it without you!! Thanks – BGG!!