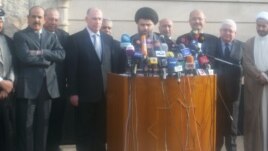 The forces of opposition to the owners at a meeting of Najaf
20.06.2012
A member of the committee charged with preparing a questioning of Prime Minister Nuri al-Maliki said the Commission continues its preparations to create questions that will be put on al-Maliki in the House of Representatives,
stressing at the same time that the interrogation process will meet all the requirements of constitutional and legal.
The blocs seeking to withdraw confidence from the al-Maliki; "Iraqi" and "Kurdistan Alliance" and "the Sadrist bloc"
formed a legal committee comprising two representatives from each party to prepare the files for questioning in parliament, after the failure to obtain the support of the President to withdraw confidence.
And a member of the Sadrist bloc, MP for Prince Kanani that the committee will complete its work soon and provide a file to parliament questioning, refusing to reveal the nature of the files that will be included in the Inquisition.
His new coalition of state law blocks accusations of seeking to withdraw confidence from the al-Maliki to work on targeting the prime minister personally.
The spokesman questioned the mass of state law in the House of Representatives on Falh the possibility of the success of the process of withdrawing confidence from the al-Maliki, because, according to his opinion, not based on constitutional or legal basis.
Falh stressed in an interview with Radio Free Iraq that the prime minister will attend to the parliament in case the interrogation conform to all legal requirements, he said, adding that Maliki would work during the interrogation to detect various files relating to breach of the Constitution committed by ministers and officials belonging to the political blocs seeking for questioning.
For his part, denied the leadership of the coalition in Iraq Hamid al-Mutlaq, the existence of any personal motives behind the process of questioning in parliament, calling on the prime minister to the need to attend to members of Parliament and the statement of his opinion on the accusations against him.
It is said that President Jalal Talabani said he rejected a request to withdraw confidence from the parliament for Maliki, after signing the request 160 deputies, with a quorum required to achieve 164 votes, or half plus one of the members of the House of Representatives.
http://translate.google.com/translat...Fid%3D24427107